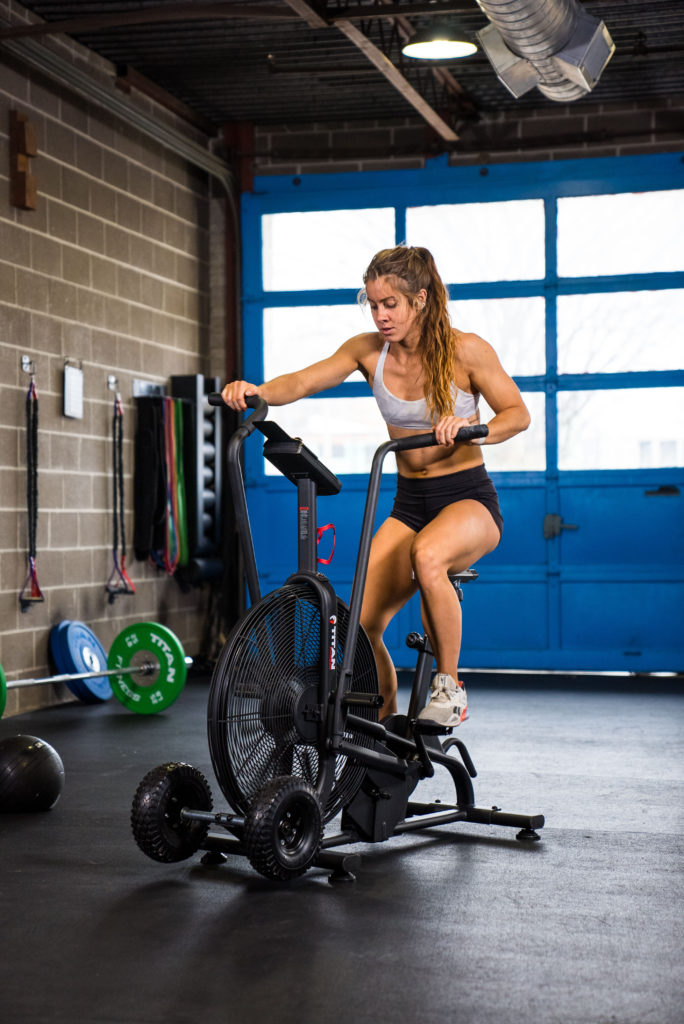 Using an exercise bike is one of the best ways to get a great cardio workout. It is easier on the knees, feet, and ankles than running is. With a fan bike, you don't have to leave your home for a great workout, which also means your exercise routines aren't dictated by the weather conditions. To get an even better cardio workout, consider using a fan bike.
What Makes Fan Bikes Unique
What makes fan bikes unique compared to a normal stationary exercise bike is its use of air. A fan bike doesn't have buttons to push, knobs to twist, or a preprogrammed routine. Instead, fan bikes, sometimes referred to as air bikes, use air as a resistance, making you completely in control of your workout.
The faster you pedal, the more resistance is generated. When you slow down, the fan blades slow down, and the resistance is lowered.There's also an added bonus: the fan blades when turning create air movement around you, cooling you while you exercise.
Another unique feature of the fan bike is the elliptical handles. While pedaling, you can move them back and forth, increasing the intensity of the working and burning more.
Here are 10 more benefits of using a fan bike.
1. Boost Cardio Health
One of the main benefits of a fan bike is it gives you the ability to boost cardio health. Cardio health can reduce the risk of heart disease, high blood pressure, Type 2 diabetes, and other diseases.
Cardio workouts help the heart pump blood more efficiently throughout your body. Cardio is also excellent for the health of your lungs, making them more efficient at transporting oxygen to your blood, muscles, and brain.
2. Weight Loss
Aerobic exercises, like using a fan bike, are a great way to lose weight. Some estimates show that a fan bike can burn more calories than a regular stationary bike. Using a moderate resistance level, the average person can burn 260 calories within 30 minutes while riding a stationary bike.
3. Fan Bikes Increase Brain Power
You might be wondering how fan bikes increase brain power. It has to do once again with how cardio exercises increase blood and oxygen flow to the brain.
As the heart rate increases, more oxygen is pumped to the brain. More oxygen can help brain cells grow and increase brain plasticity, stimulating the growth of new connections between brain cells. Using a fan bike can also improve memory and reduce the risk of dementia and Alzheimer's.
4. Build Muscles
There is no better way to build leg muscles than using a fan bike. Using a fan bike can have an effect on leg muscles including calves, quadriceps, and hamstrings, along with core strengthening muscles like your glutes, back muscles, and abdominals.
Moving the handlebars on fan bike while you ride can build your triceps, shoulders, and biceps. Building your leg muscles this way is easier on your feet, knees, and ankle joints without all that pounding on the pavement.
5. Reduce Stress
Studies have found that regular aerobic exercise like using a fan bike can reduce stress, elevate your mood, improve sleep, and improve your self-esteem. Cardio workouts release chemicals called endorphins, which trigger a positive feeling.
Stress can turn into chronic stress, which has negative side effects. Cardio exercising on a fan bike is an excellent way to burn off that unwanted health issue.
6. Reduce Cancer Risk
There has been a great deal of research concerning the link between reducing cancer risk and exercise. Researchers found that those who exercised the most had lower rates of various types of cancer.
Additionally, it's believed that increasing exercise and physical activity leads to a stronger immune system, lower inflammation, and higher levels of natural antioxidants, all of which help reduce the risk of cancer.
7. Easier Than Riding a Bike
Taking a bike ride is usually fun, but when you want to get a good cardio workout, using a fan bike in your home is safer and readily available..
A fan bike allows you to work out when and where you want without the added elements of traffic, wet or icy roads, and extreme heat.
8. Great for Interval Training
Interval training is alternating between short, high-intensity bursts of exercise with periods of lighter training or rest periods. This style of workouts can help you burn more calories in less time and increase your overall fitness level at the same time.
Using a fan bike makes interval training easier to incorporate. By cycling faster, you will increase the resistance for a short, hard burst of exercise. You can then slow your pace to reduce the resistance while resting before starting the next burst of your interval training.
9. Easy Workout With Proper Form
Like with any exercise, it is important to keep your form in mind. When using a fan bike, be sure to keep your back straight and don't hunch over the handlebars.You'll also need to adjust the seat for the best height. Keep your knees in line with your feet and don't let your knees creep inward.
10. Can Log Your Progress
Logging your progress can help keep you motivated and focused on your health goals. When using a fan bike, there are no rules on how long or hard you have to ride, but keep in mind your fitness level and capabilities.
Along with a healthy diet, cardio exercise, like using a fan bike, is one of the best ways to increase your overall fitness, reduce the risk of illnesses, and maintain a healthy lifestyle.