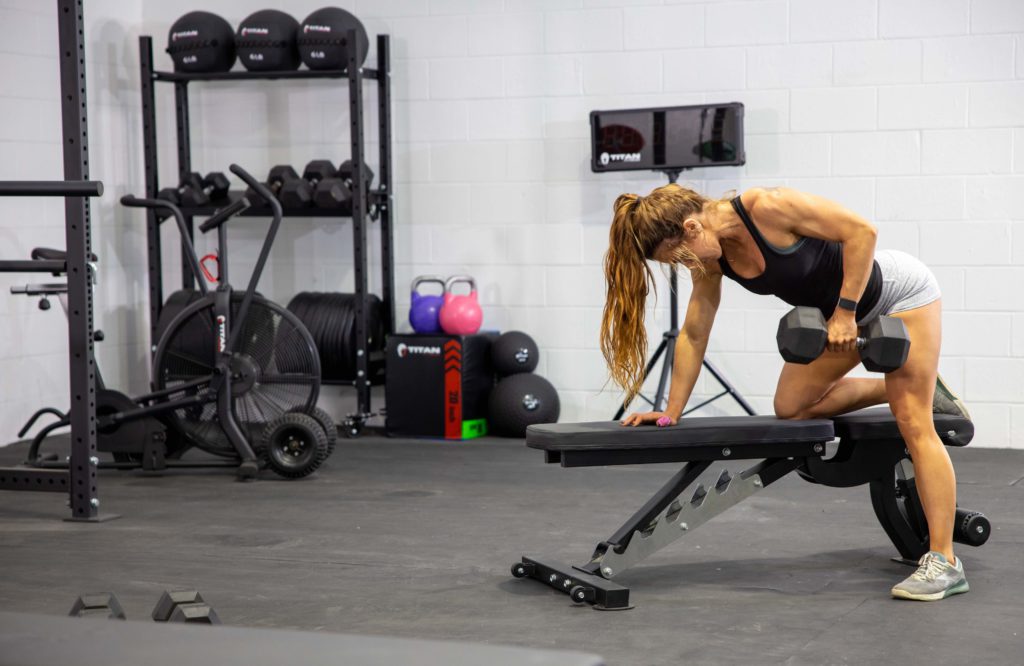 There's a strange paradox with home gyms: sometimes people who have home gyms don't use them often enough. In most cases, this happens because home gyms don't have the best workout equipment.
A bare-bones gym consisting of an elliptical machine and a few dumbbells can hardly motivate anyone to complete effective workouts. To create the perfect home gym, you need to create a space that will beckon you to spend time in it. The first step to creating a home gym you want to work out in is by creating a space that you want to be in.
What Makes a Perfect Home Gym?
There is no one-size-fits-all answer to this question. The perfect home gym for you depends on your fitness goals and preferences. The most important factor to consider is what equipment and accessories you need to invest in to get the most out of your experience.
If you train for muscular development, your basics will consist of a bench and squat rack. However, If your main focus is endurance training or Olympic weightlifting, look into equipment that will help you reach your fitness goals.
Whether your gym is in your garage, basement or spare room in your home, it needs to draw you in. Here's a few ways to elevate your home gym experience that boost your results:
Create the Perfect Atmosphere for Working Out
Besides your equipment, the secret to a great home gym lies in the atmosphere. Some people like a dark room to focus on their weight training while others need natural light and bright colors. Find out what works for you, and re-create it in your personal workout space.
Beyond colors and lighting, you should decorate your home gym for inspiration. Posters of your favorite fitness icons, trophies, flags or memorabilia are a great way to inspire you during your workout.
Think about music when you're deciding on what to include in your space. Create a few playlists to jam out to during your workouts and play them over loudspeakers in your gym.
Include a Mirror
Be sure to include a mirror, whether floor to ceiling or stand alone. Mirrors allow you to monitor your progress and help you achieve proper exercise form.
Using the correct mechanics is important to avoid injuries. With an exercise like the dead lift, you need to keep a neutral spine to avoid hurting your back. A mirror can help you maintain perfect form if you position it properly.
You may want to consider having a few mirrors in your home gym so you can watch yourself from different angles during different workouts.
Best Workout Equipment
When research equipment, think about multi use options. Having a machine that allows for different types of workouts cuts out the need for gym memberships and takes up less space. Power racks, for example, can be an integral and transformative piece of equipment in your home gym.
Power racks can be an all-on-one gym solution that accommodate for a variety of accessories. With the Titan T-3 power rack, you can safely and effectively execute workouts that can boost your fitness goals. Power racks can support deadlift workouts, bench presses, and pull ups.
Invest in the Necessary Accessories
To make the most out of your workouts, considering investing in the necessary accessories. Olympic barbells are the standard, but mixing up your strength training with other equipment can boost your numbers. For example, including a trap bar in your workout allows you to pull weight without compromising your lower back.
If exercising outdoors is an option for you, there are a few extra pieces of equipment that can enhance your experience. Heavy hammers and sleds can supercharge your functional strength while providing the variety that keeps you engaged.
Keep It Organized
Walking into a gym with weights and equipment out of place can be a turn off in both public and home gyms.
Keeping your home gym organized will enhance your workout experience. Consider buying a weight rack and other storage items that will allow you to keep everything tidy. Depending on the room you have available, a small desk can house your workout programs and stereo system. Whatever you decide, keep in mind ways to maximize the time spent building your strength while minimizing the effort it takes to clean up.
Start Elevating Your Experience Today
A home gym is always a work in progress. As your fitness goals increase, so will your need for extra equipment, but that doesn't mean you have to worry about it all at once. Come up with a strategy for improving your home gym experience and work at it over time.