A kettlebell can be a valuable — and affordable — addition to your home gym. Whether you're concentrating on strength training, core and muscle building, cardio, or overall total fitness, kettlebells can bring you a positive impact with only a minimum investment of time.
Here's a look at all things kettlebell: different types, their benefits, how they compare to dumbbells, and how to find affordable kettlebells for your home gym. We'll also add a few kettlebell exercises, so you can learn how to use them to change up your strength training and fitness routines.
Kettlebell vs. Dumbbell: Which Is Better?
Before answering this question, it helps to explain their differences in construction.
A kettlebell is comprised of an iron ball — similar to a smaller-sized bowling ball — with a huge handle attached to the top. To exercise with a kettlebell, you grip the handle, then perform the required reps for total-body or muscle-isolating benefits.
A dumbbell, on the other hand, is comprised of a short handle with weighted plates attached to each end. These weights, which can be in the form of round discs (weight plates), balls, or cubes, are usually permanently attached, except in the cases of adjustable dumbbells.
Comparatively speaking, a kettlebell enables you to do all the strength-building exercises of a dumbbell while allowing for a wider range of movement and more variety of routines. For example, many classic kettlebell exercises involve swing moves, which you can't perform as easily with a dumbbell due to its shape. In addition, you can use kettlebells for various cardio and fat-burning exercises to achieve weight loss.
Benefits of Using a Kettlebell
What does a kettlebell do for your body? A kettlebell enables you to build strength quickly while simultaneously building stability, flexibility, and balance. A kettlebell can help you tone and strengthen your forearms, upper arms, legs, and rear. Plus, kettlebells can also help you burn fat while sculpting muscles.
Here are some of the benefits of kettlebell training:
Can be used for a wide range of movements, including swings
Ideal for strength, balance, and endurance training
Can be used for core strength routines, as well as muscle-building and muscle-isolation exercises
Great for fat-burning workouts
Can be used for cardiovascular routines with non-running exercises
Can increase mobility
Requires no equipment space and little training space
Can improve posture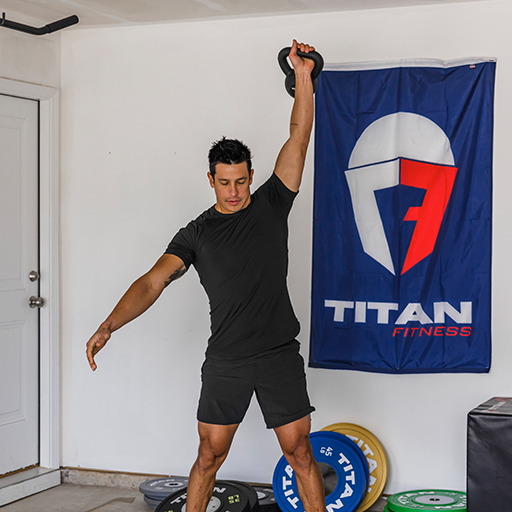 Kettlebells and Weight Loss
Unlike some types of gym equipment primarily designed to build muscle, kettlebells can be used in certain types of cardio and calorie-burning routines that can help you lose weight.
According to a study conducted by the American Council on Exercise (ACE), kettlebells may enable you to burn twice the calories that you would while working out with other types of equipment. For example, according to the research, you can achieve the same fat-burning and cardio results in a 20-minute kettlebell workout as you would with a much longer workout involving a treadmill and weights.
In the study, the average calorie burn totaled 272 for a 20-minute kettlebell workout consisting of basic snatch routines, switching back and forth to opposite hands. This means that participants were burning at least 20 calories per minute, which, according to fitness professionals, is equivalent to running a six-minute mile pace.
This type of kettlebell cardio-calorie-burn routine isn't just quick; it also provides a huge impact — or, as ACE experts put it, a big bang for your buck within a short amount of time.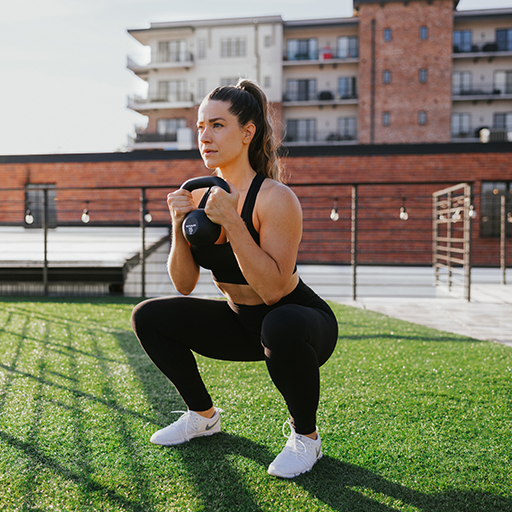 What Type of Kettlebell Should You Buy?
Here's a look at the main types of kettlebells, with advantages for each one:
Cast Iron Kettlebell
As the name implies, this standard kettlebell is made of cast iron and is the type that you typically find in both commercial and home gyms. It has a handle that makes it easily recognizable because it's much wider than the "bell" (ball part).
This standard kettlebell is best for:
Home gym users and recreational lifters
Newbies to kettlebells who need a wider grip for greater ease
Lifters who want to do swings, goblet squats, and other two-handed movements
Competition (or "Girya") Kettlebell
Competition kettlebells are made of steel and have a slimmer handle that aligns with the circumference of the bell. Typically, competition kettlebells have handle diameters that are 33mm to 35mm, or around 1.29 to 1.37 inches.
Competition kettlebells are best for:
Competitive lifters, or lifters who want to train for competitions
Lifters with smaller hands who want to perform exercises where they can fit both hands inside the handle
Lifters who are working on one-armed movements
As a top-notch example of this type, Titan Fitness offers an Adjustable Competition Style Kettlebell that actually allows you to adjust the weight from around 26 pounds to 70 pounds simply by adding or removing a screw. This is a great all-in-one kettlebell that allows you to customize it for each exercise you perform.
Kettlebell Materials and Construction
While standard kettlebells are usually made of cast iron and competitive ones are made of steel, you may find some variations on these materials as well. However, the biggest variations are in handle construction, as we've discussed, and in coating types.
While many kettlebells have an exterior of unfinished iron, you may also find rubber or powder coatings. These coatings don't really add to the kettlebell's effectiveness but may give it a smoother feel, as well as extra durability and protection against rust and corrosion.
Another feature to look for is "bottom finish," which refers to a flattening at the bottom of the kettlebell. This is primarily for convenience, as it allows you to sit the kettlebell upright and evenly on the floor without it toppling over.
How to Pick the Right Kettlebell Weight?
If you're just beginning with a kettlebell, some fitness coaches recommend starting with a weight of 33 pounds for men and 18 pounds for a woman. However, if you've been strength training, you can increase these numbers to 35 pounds for men and 26 pounds for women.
Essentially, the suggested weight for a kettlebell depends on the exercises you plan to do, as well as your current fitness level and future training goals.
Are Kettlebells Worth Buying?
If you're dedicated to any kind of fitness regimen at all, kettlebells are worth buying because they enable you to perform a wide range of exercises to help you achieve multiple fitness goals, from strength training to cardio workouts.
Titan Fitness offers kettlebells, as well as a huge selection of home gym equipment, all offering premium quality without the premium costs. One example is this 40 LB Adjustable Kettlebell, which features six drop cast iron plates that can be removed or added to customize its weight to each routine.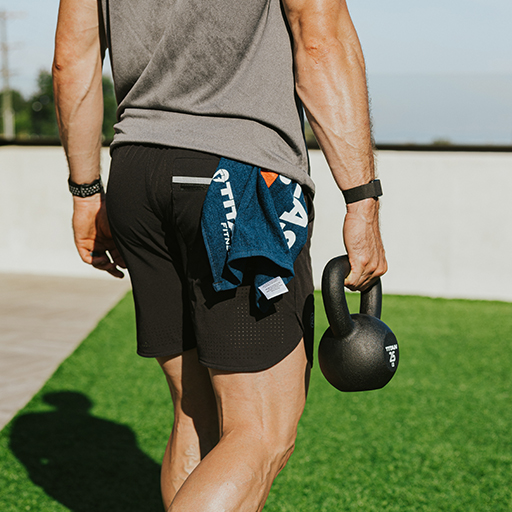 Alternatives to Kettlebells
As alternatives in some kettlebell exercises, you can use:
Resistance bands
Wrist bands with weights
Cables and pulleys (especially if you have a power rack)
These types of equipment each have their limitations, however. That's the great thing about kettlebells — you can perform so many exercises with one piece of equipment.
What To Consider When Buying a Kettlebell
Ready to buy a kettlebell? These factors can help you make the right choice when it comes to the weight and type of kettlebell you choose:
Training Style
Are you primarily focused on serious strength training, or are you a recreational lifter? And are you looking for a total body workout, muscle-building exercises, or cardio and calorie-burning routines? These all play a part in the type of kettlebell you'll want to buy. For example, if you're a recreational lifter or want a total-body or cardio/calorie-burning workout, a standard kettlebell should be ideal. If you're into serious or competitive weight training, you might want to consider a competition kettlebell.
Price
No matter what type of training you're doing, price is always a consideration when it's time to equip a home gym. And whatever kind of equipment you're looking for, it's important to get the best quality you can afford. At some retailers, competition kettlebells start at well over $100 and can run into hundreds of dollars more, plus shipping. But at Titan Fitness, we have a wide range of premium kettlebells starting at under $50, with free shipping as well. In fact, Titan Fitness offers free shipping on all our gym equipment, in addition to our one-year warranty.
Handles
Standard kettlebells have wider handles, while competitive kettlebells have slim handles aligned, so they're flush with the sides of the bell. You'll want to choose a kettlebell with a handle width to suit your training routines.
Weight
Before choosing a kettlebell, consider your current fitness level and overall goals, and choose accordingly. It's best to start with a weight you can handle, and if you have a personal trainer, be sure to ask for advice before buying.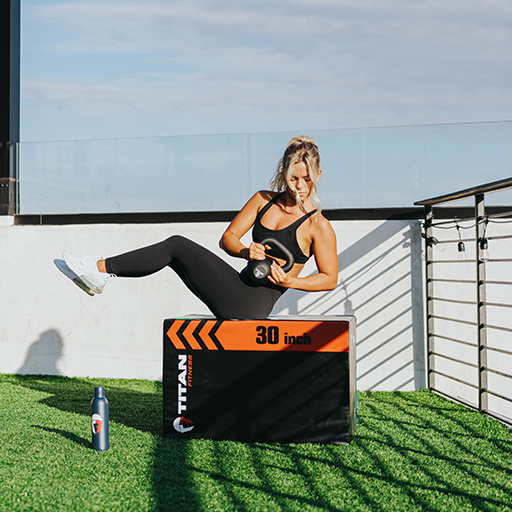 Benefits of Buying with Titan Fitness
As thousands of fitness fans know, Titan Fitness believes that everyone should have access to premium equipment without the premium costs. If you shop at Titan, you'll be able to outfit an entire home gym with quality equipment at prices that you can afford. And to get you started, Titan Fitness even offers home gym packages, including a Starter Package and a Space Saver Package, both of which include a power rack or squat stand, a barbell, and a flat bench.
As another benefit, Titan Fitness offers free shipping on every order, so you'll save even more on your home gym equipment. Plus, Titan Fitness offers a generous one-year warranty on its equipment, so you can buy with confidence. With free shipping and affordable prices, Titan Fitness can help you equip your home gym with everything you need without breaking the bank.
If you're ready to take your workouts to the next level, we can help. Be sure to check out Titan Fitness for a wide variety of top-quality kettlebells, plus everything else you'll need to equip your dream home gym.