If you're serious about your workouts, one of the best investments you can make is building a home gym. With a workout space at home, you no longer have to pay for a gym membership. You can save on the gas it would take to get to and from a workout facility. Also, you can have access to the fitness equipment and weights you want to work out with, whenever you feel like lifting—which means you can more easily fit working out into your day, even if you only have a short break between responsibilities to get your exercise in.
One crucial element of outfitting your home is choosing all of the right new products for your space—including the right type of dumbbells for your workouts.
Dumbbells are small hand weights used for body workouts or weightlifting. They are usually knurled, with weighted caps on each end, and they are easily lifted in one hand (instead of both, like a barbell or a kettlebell). Dumbbells are likely a central part of your workout routine if you intend to get strong and build muscle from exercise, and they can be used in a variety of workouts to increase the difficulty and make the effects more wide-reaching and varied. For example, carrying a pair of dumbbells while you do a cardio workout can help build muscle and make the cardio workout more intense.
What to Consider Before Buying Dumbbells
Before you jump in and purchase dumbbells to suit your workout needs, it helps to understand the most important considerations for choosing a dumbbell.
Adjustable or Fixed
Some dumbbells are fixed. They weigh a set amount that cannot be changed. Other dumbbells are adjustable, which means that you can switch the weights out on the dumbbells and make them heavier or lighter to suit your workout needs. To change the weight of these types of hand weights, you simply remove weight plates and replace them with plates of the right weight.
Ease of Use
Consider how easy dumbbells are to use before you decide which ones to buy. Dumbbells that come assembled, padded, and fixed are one of the most basic, straightforward pieces of exercise equipment. They are really simple to pick up and start using, especially if you are in a hurry to complete all your reps. Adjustable dumbbells that have to be set up and prepared in order to use them can be more time-consuming and less convenient to use, which makes them better suited for longer workouts.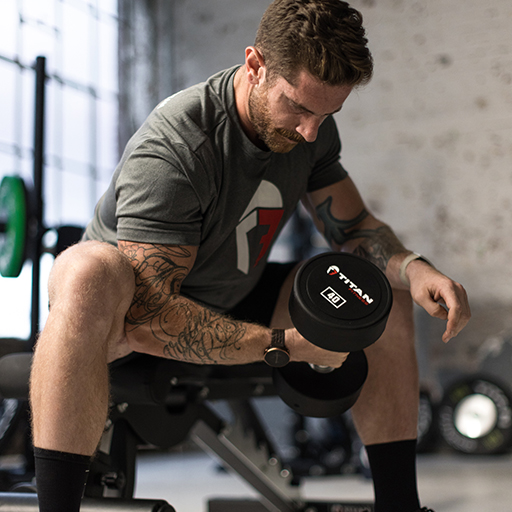 Common Dumbbell Materials
If you are going to buy a dumbbell set in order to stock your home gym, one consideration you should keep in mind is the materials the dumbbells are made out of. Dumbbells are made of a variety of materials, and each type is best suited for a kind of workout or activity within the gym. Whether you do a body workout or need a free weight set for weight lifting, the material of the dumbbell set you choose matters.
Below, we've outlined the most common materials dumbbells are made out of. Consider how you'll be using the dumbbells and how heavy you need the dumbbells to be before you decide what dumbbell material is best suited for the gym at your home.
Rubber
One type of dumbbell set popular for home fitness aficionados is the rubber-coasted dumbbell. Rubber-coated dumbbells are usually "hex" in shape. (This means the end/weighted part of the dumbbells are hexagonal in shape). That's why they're often called the "rubber hex dumbbell." The rubber hex dumbbell often ranges from 5 to 50 pounds in weight, but at Titan Fitness we offer all the way up to 100-pound pairs. This kind of weighted dumbbell appeals to everyone, from bodybuilding experts to home fitness novices, because it has handles that are easy to hold and comfortable.
Rubber hex dumbbells are best suited for beginners since they are lightweight, easier on the hands, and the heads on either side are shock-absorbing—which means that if you drop them, they're likely going to cause little damage (just avoid your toes!)
Urethane
Urethane dumbbells are also metal dumbbells that are encased in another material. However, instead of the ends being encased in rubber, they're encased in urethane—which is a man-made plastic-like material. Urethane capped dumbbells oftentimes have a sleeker look than rubber dumbbells.
They also have a high-quality urethane coating on the ends of the weights so they do less damage and cause less sound if you drop the weights on the ground. People choose urethane-coated dumbbells over rubber dumbbells because they are waterproof, able to withstand a huge variety of environments, easy to clean, and very, very durable.
Urethane dumbbells come in a wide weight range—Titan Fitness offers all the way up to 120-pound pairs—so they may be a better option for more advanced lifters who have spent some time mastering home fitness.
Neoprene
Do you want your dumbbells to look particularly pretty in your home gym? Consider getting a dumbbell set that is made out of neoprene. Neoprene dumbbells are smaller dumbbells. They are not made for heavy lifters. Instead, they are ergonomic weights that are easy on the hands and arms, and they are best used to incorporate into other types of workouts or to use for very lightweight workouts.
Neoprene dumbbells usually weigh from 5 to 10 pounds, and they are very easy to handle in your hands. Choose a neoprene dumbbell set if you want dumbbells to incorporate into aerobic or cardio workouts, or if you really like colorful weights.
Dumbbell Buying FAQ
Now that you know the basics of dumbbells, you may want some more guidance on your dumbbell buying journey. It's common for people outfitting a home gym for the first time or just beginning a strength training program to wonder how many dumbbells they should buy, what weight of dumbbells they should buy, what they should buy to complement dumbbells, and more.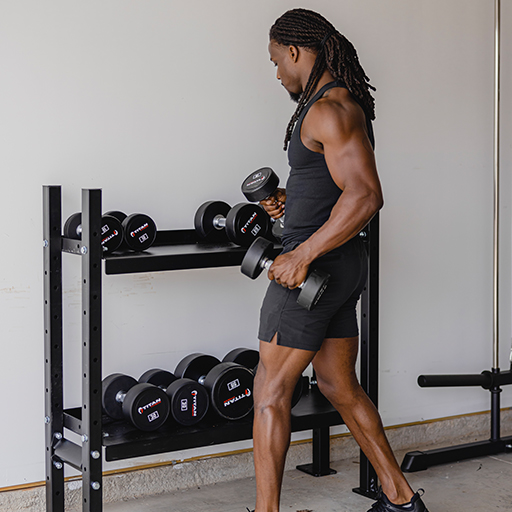 Should I buy dumbbells or kettlebells?
Both dumbbells are kettlebells are types of gym equipment that are smaller and easier to use than barbells. So, how do you know whether you should invest in a dumbbell set or a kettlebell set? In reality, you likely need both in your gym. Kettlebells are best used for dynamic exercises, like snatches, swings, or jerks. They are likely used in cardio or high-intensity interval workouts.
Alternatively, dumbbells can be incorporated as fitness equipment into interval workouts and cardio workouts. But, they are a better choice for people who are only going to be using their weights for lifting. Also, dumbbells make more sense for beginning exercisers, since dumbbells are balanced pieces of equipment with equal weights on each end of a bar. This makes them safer and easier to handle for people who are inexperienced with lifting.
Should I buy something to store dumbbells?
If you buy a dumbbell set for your home gym, you should consider also buying a weight rack to store the dumbbells on. If you store dumbbells on the floor, not only does it make your home workout space look messy and disorganized, but you can also shorten the life of your dumbbells.
Storing your dumbbells the right way also helps you keep them in some order, so you don't have to search through all of your dumbbells to find the right weight every time you go to lift or work out.
A piece of equipment you should consider is one completely dedicated to storing your weight set. There are different kinds of racks that allow you to store dumbbells, including racks that are made specifically for dumbbells, or large cabinets that are built to hold all of your workout equipment.
How heavy should my dumbbells be?
The weight of the dumbbells you end up buying should be guided by how experienced you are in the gym. It is a good start for anyone who is just beginning to use a dumbbell set for the first time to consider buying weights that range from 5 to 20 pounds.
It makes sense to buy a dumbbell set that contains multiple weights to augment different types of exercises. Alternatively, you may want to invest in one set of adjustable dumbbells since the one set will give you the ability to increase what you're lifting in increments.
As you embark on your fitness journey, you'll likely want to start with light sets of weights. Then, you will want to increase to heavier weights that will continue to help you build muscle. You can increase the weight of the dumbbells in increments so that you gently and safely increase the amount you are weightlifting over time. Buying a set of dumbbells with range is an investment in a piece of equipment (or set of equipment) that will last you a while and provide you with equipment that you can use as you advance through a fitness journey.
Buy Your Perfect Dumbbell from Titan Fitness
If you are interested in building a home gym, dumbbells are going to be an essential part of stocking that space. Further, if you know what kind of dumbbell you need to achieve the results you want from your workout, it's time to invest in the right kind of dumbbell. Shop the selection at Titan Fitness today. We have a huge selection of dumbbells so you can get just what you need for the perfect lift—or get a combo of dumbbell types, so your workouts can evolve as your fitness goals do. Browse our large selection of dumbbells here.