We all know that resistance training can be the key to a great workout regimen, and one of the best ways to reach your strength training goals is by using weight plates. No matter what level of strength training you do, barbells and weights are going to be your most valuable tools for an effective workout.
Barbells are only as effective as the weight plates that are attached to them, so the type and weight of your plates can determine how far you progress in your training. In this guide, we'll talk about how weight plates can impact and benefit your workout, as well as how to choose the best weight plates for your home gym.
What is a Weight Plate?
In case you're a newbie to the gym, weight plates are the heavy, plate-shaped discs that are attached to the ends of barbells. In strength training, weight plates enable you to achieve your desired lifting weight in a wide range of resistance training and muscle isolation exercises.
And, as you'll find out below, you can also use weight plates without bars to do a variety of total-body and muscle-isolating exercises during your workout routines.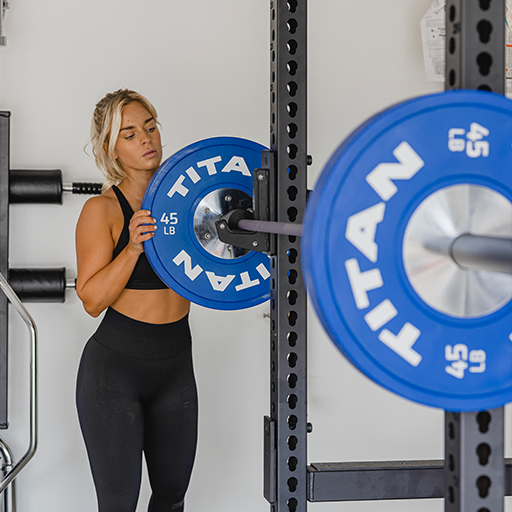 Sizes of Weight Plates
Typically, standard weight plates weigh from 2.75 pounds to 55 pounds, although you might also occasionally find plates weighing in at 100 pounds.
In most gyms, you'll find barbells loaded with weight plates at a standard 45 pounds each. Figuring in the weight of the barbell, which is usually around 45 pounds, means that, with one 45-pound plate on each side, you're lifting a total of 135 pounds. Here's a calculation of your total lifts with 45-pound weight plates and a 45-pound barbell:
One plate on each side: 135 pounds
Two plates on each side: 225 pounds
Three plates on each side: 315 pounds
Four plates on each side: 405 pounds
If someone says they lifted a "one-plate bench," this means that they lifted a bar with one 45-pound plate on each side, for a total lift of 135 pounds. Likewise, a "two-plate" lift would mean two 45-pound plates on each side, for a total lift of 225 pounds, and so on.
In case you're wondering why standard plates aren't just configured at 50 pounds instead of 45, it's because they're made according to the metric system, using kilograms rather than pounds.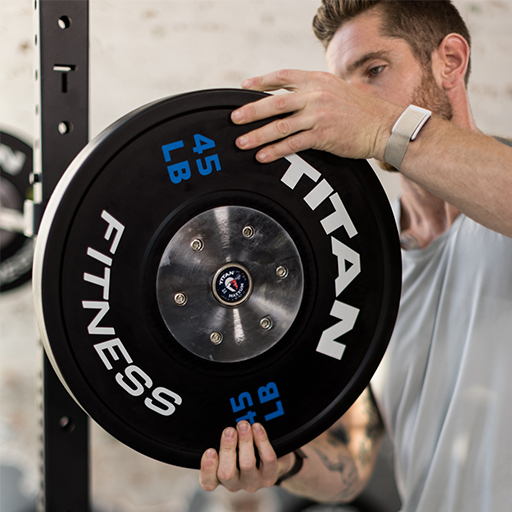 Types of Weight Plates
Titan Fitness offers 2 basic types of weight plates, all of which differ primarily in construction:
Standard Weight Plates
These are popular in home gyms and are made of steel or cast iron. Many times, the plates are interchangeable with different types of bars, including adjustable dumbbell handles and aerobic bars. Standard weight plates are typically smaller than bumper plates or Olympic plates.
Bumper Plates
Bumper plates vary from 10 to 55 pounds and are made with a metal interior and thick rubber-coated exterior so you can drop them from overhead without worrying about breaking the weight plate or damaging the floor. Bumper plates are usually all made with the same diameter, no matter what their weight.
Bumper plates are primarily used with Olympic lifts, as well as floor-based barbell routines. Also, bumper plates often come in a range of colors to differentiate their different weights, as you can see from this set of affordable, top-quality KG Elite Color Olympic Bumper Plates from Titan Fitness.
Benefits of Weight Plates
What's not to like about weight plates? Whether they're standard plates or bumper plates, fitness experts agree: Weight plates are an essential piece of home gym equipment. They enable you to perform a wide range of exercises at a variety of weights to suit your fitness goals and provide maximum benefits for weight-resistance training and muscle isolation.
Here's how weight plates can benefit your workout:
They provide a wide range of muscle-building exercises impacting shoulders, chest, abs, arms, upper back, deltoids, biceps, triceps, leg strength, and more.
You can use them for all kinds of lifts, including squats, deadlifts, power lifts, and virtually every other type of lift.
You can use them alone, without bars, for muscle-building and isolation exercises.
You can use them to build a stronger grip and engage more muscles than you typically use in other routines.
You can use them to build resistance and stamina.
They're easy to take care of, require no maintenance, and are easy to store.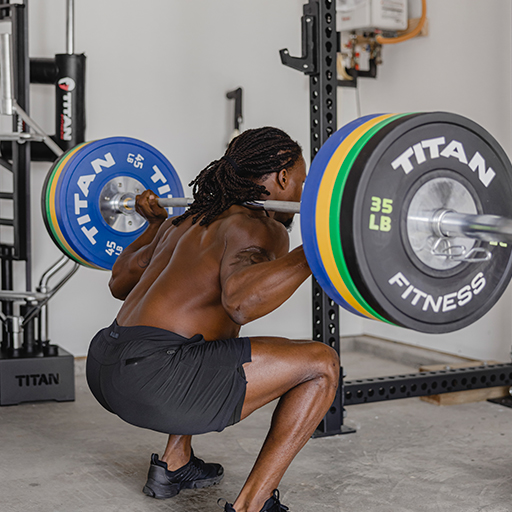 Barbells With Weight Plates vs. Dumbbells
Barbells and dumbbells each provide specific advantages, but both are valuable additions to any home gym. Ideally, a great strength-training regimen should include a combination of barbell and dumbbell exercises.
Here's how they differ:
Barbells
Barbells with weight plates are primarily used for overall muscular strength and weight resistance training. As we mentioned above, a standard bar typically weighs around 45 pounds (although you can get varying sizes and weights) and can accommodate multiple weight plates to reach your desired lifting weight.
When working with a barbell, you'll lift and hold it with both hands, in a way that stabilizes the weight. Barbells allow you to load mass amounts of weight, yet still, hold the bar securely.
Dumbbells
When we think of dumbbells, we usually picture the kind with the weights permanently attached, but dumbbells can also come with adjustable weight plates.
Fixed-weight dumbbells can weigh (in pairs) from five pounds up to 100+ pounds. When working with dumbbells, you'll lift one in each arm (or one at a time), primarily for muscle isolation and toning exercises such as dumbbell rows and concentration curls.
Workouts With Weight Plates
Did you know that you can do workouts with just weight plates alone, without a bar? Weight plates are great for all kinds of total-body muscle exercises, including these below:
Front Shoulder Raise
Hold the weight plate upright in front of you, and raise it back and forth from the top of your legs to your shoulders.
Truck Driver
Hold the weight plate upright in front, like a steering wheel, and using a steering wheel motion, rotate it back and forth.
Floor Press
Lie on your back, with your legs straight, and hold the plate flat, raising it above your chest. Press it toward the ceiling, and then return it to your chest. To improve your abs, you can simultaneously lift your legs an inch or so off the ground.
Plate Push-Ups
Position yourself for a push-up, with a plate under each hand (make sure the plates are touching). As you lower your chest to the floor, slide the weight plates apart as you move — and try to touch your nose to the ground. When you raise yourself back up, slide the plates back so they're touching again.
The High Cost of Weight Plates: Materials and Construction
Why do weight plates cost so much? The answer primarily has to do with materials and construction, as well as shipping costs. Here are four reasons for the high cost of weight plates.
Materials
Weight plates are made from solid metals, then bound in rubber and urethane casings (except for all-metal plates). It takes a lot of raw material — in the form of iron or steel — to make one weight plate. Added to that, the plates have to be shipped from the manufacturer to the dealer; and with today's shipping rates, the cost for shipping these bulky, heavy plates can be astronomical.
Construction
Weight plates are made of cast metals that have to be carefully crafted so there aren't any fault lines. If there are, then the plates could easily crack and be ruined.
Shipping Costs
Weight plates aren't something that the average person buys all the time. Usually, a good set of weight plates can last for an unlimited length of time. This means that weight plates can sit in manufacturers' or dealers' warehouses for years before they're sold — and storage costs money.
Unlike many other fitness retailers, Titan Fitness offers free shipping on all its products. That enables you to save a substantial amount of money on your orders, especially given today's high shipping costs.
Bought in Pairs
Finally, when you buy weight plates, you oftentimes have to buy them in pairs. Likewise, you'll want several sets of different weights if you're equipping a home gym — and cost-wise, this can add up.
The Benefits of Saving Money at Titan Fitness
Thanks to Titan Fitness, you can get a set of premium quality weight plates or bumper plates without the premium cost. This means that with every piece of equipment you buy from Titan Fitness, you'll be enjoying substantial savings, plus free shipping. Whether you're in the market for weight plates, bars, specialty bars, kettlebells, dumbbells, power racks, or anything else, you'll be getting top-quality, at a price you can afford.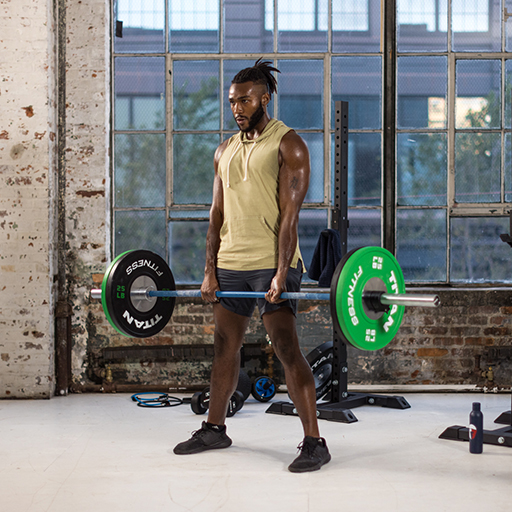 What To Consider When Buying Weight Plates
There are several things you should consider when choosing weight plates.
Training Priorities
Are you a powerlifter, bodybuilder, or recreational lifter? Are your goals focused on strength training or overall total-body fitness? The types and weights of the weight plates you buy will depend upon these factors. If you still can't decide, be sure to ask a personal trainer or instructor at your local gym for help.
Budget
Standard weight plates can cost less than $25 for a pair of 2.5-pound plates or around $145 for a single 55-pound plate. Even if you're on a budget, you'll still want to choose several different weights so you can change up your workout.
Titan Fitness offers premium quality without the premium costs, which is why so many fitness fans come to us for their home gym equipment. Here are some examples of Titan Fitness's high-quality color-coded bumper plates (follow the links for our economy prices):
Durability
It's crucial to get weight plates with the durability and toughness to stand up to regular workouts. At Titan Fitness, we only sell the best-quality weight plates, made of dense, top-of-the-line rubber and steel.
Warranty
At Titan Fitness, our weight plates come with our one-year warranty, so you can buy with confidence.
Features and Construction
Do you want standard weight plates, color-coded bumper plates covered with rubber, or all-metal plates? Your choice should depend upon your training regimen. If you use a power cage or squat cage, you can safely use metal weight plates. But if you prefer floor-based barbell routines, you'll probably want to choose bumper plates instead.
Whichever type of weight plates you choose, you'll be amazed at how much you can do with them, and how much they'll enhance your workout regimen. And if you're looking for top-notch weight plates that will help you take your training to the next level, be sure to check out our wide selection at Titan Fitness, where you'll find everything you need to outfit your dream home gym.