So, you like to lift heavy. And, you want to do it from the comfort of your own home.
There are tons of reasons people choose to work out at home these days. From health concerns about the pandemic to more remote work opportunities, home workouts just make sense—they're convenient, give you a break from work, and help you save money on gas and gym memberships.
However, if you're going to do a real workout at home, you need all of the proper equipment—including a power rack, if you're serious about lifting.
As you do assemble a home gym for yourself, you might be wondering. Is it even possible for me to fit a power rack at my house? The reality is, yes: there are plenty of small power rack options that will fit into a cramped workout space, or that will fold up to be tucked away if you're working out in a room you use for multiple activities.
To find the best options for small power racks and stands, you just have to make sure you are browsing the right options, like several of the power racks from Titan Fitness.
Here are the best power rack options for small spaces or temporary workout areas, and tips for deciding which power rack is the right piece of equipment for you.
Things to Consider When Buying a Power Rack for a Small Space
When you are deciding what kind of power rack to buy for your small space, you should keep the following considerations in mind. Getting clear about each of these will ensure that you pick a rack that fits in your space and that also allows you to do your regular workout.
How much room you have: The first and most obvious consideration is to decide how much room you have in your home gym or workout space for the power rack. Measure the length of the space, the height of the ceiling, and the depth you'll need to place the power rack in the room and be able to use it safely. Know that some of Titan Fitness' power racks fold up. You can unfold and use them when you are working out, then fold them and tuck them away when they're not in use. Folding power racks are a good choice if you exercise in a space that you use for multiple purposes, like a garage that you actually park in, a playroom, or a home office.
What exercises you will use it for: How do you typically use a power rack? Do you use it for lifting heavy weights that you'll need to re-rack? Or, do you use the power rack as a pull-up bar to do pull-ups or chin-ups on? Hone in on the exercises you'll be using the power rack for, then determine what size you need. A power rack you get inside of for wide grip pullups or lift in will need to be wider, deeper, and taller than one you use simply use to hold the weights you're lifting.
Your budget: A final factor that can help you decide which power rack to use is your budget. How much money do you have to spend on a power rack for your home gym? Set your budget, then search within Titan Fitness' selection of power racks for one that is within those limits.
Types of Small Space Racks
If you know that you need a space-saving rack for your space, consider the different types of small space racks you can choose from.
Folding racks: Folding racks can fold in or be extended so that they save space when they are not in use.
Wall-mounted racks: Wall-mounted racks (which can also be foldable racks) help save space because they use the wall for sturdiness and stability, instead of needing 4 legs firmly on the ground.
Especially small power racks: One option for small spaces is the typical power rack—but one of our smaller footprint power racks, which has been created specifically to have a small footprint but provide structure for workouts.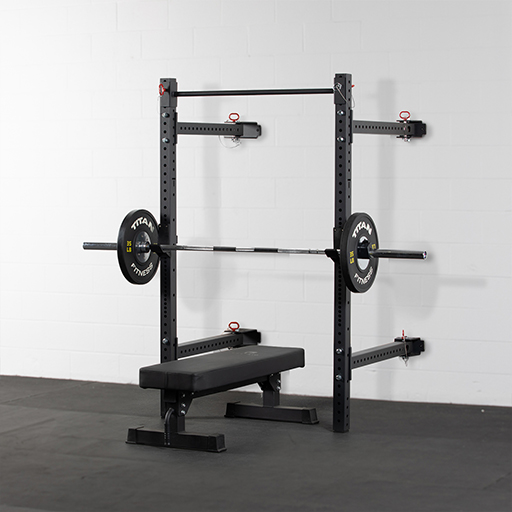 Titan Recommendations
Titan has a slew of power racks that you can use in any small space. We endorse all of the products we sell, but there are some power racks we think are the absolute best choices for a home gym you set up yourself. Here are our recommendations:
Buyers Guide
When you are ready to purchase a power rack, here are the specifications you need to take a look at to make sure you're buying a piece of equipment that's going to help improve your home workouts.
Weight capacity: How much weight can your power rack hold? Pick a power rack that can hold the weights you're going to lift (e.g., barbells) and ones that can sustain your weight if you use a power rack for bodyweight exercises. Also, make sure to pick a rack that will grow with your progressions.
Stability: Stability is key when it comes to power packs. They're large pieces of equipment that hold a lot of weight. Consider the kind of workouts you use the power rack for and ensure it offers enough stability to support those workouts. Also, consider who will be around the power rack—like little ones—and make sure you choose a rack that is sturdy and stable enough that it won't fall over if it's pulled and climbed on by a child.
Safety mechanisms: Power racks can be risky when you use them to lift heavy weights or to lift your own body weight, especially when you are alone. Consider what safety mechanisms the power rack you want has, such as safety bars and pins, to ensure that weights stay where you want them when you're not exercising.
Materials: Decide what material you want your power rack to be made of. Some power racks are made of heavy gauge steel for the most intense of workouts, while others are made of wood or carbon. While wood or carbon racks are available in the world, Titan Fitness does not offer any racks but steel racks. Titan Racks are made out of heavy gauge steel to support the most intense workouts, providing you premium quality racks without the premium cost.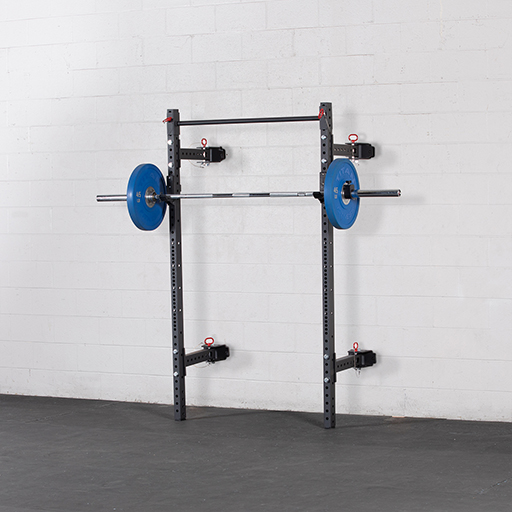 Ready To Shop for Your Own Power Rack?
Clearly, finding a power rack for a small space is an excellent option for any serious lifter who wants to transition to working out at a home gym. Check out the small and folding power rack options from Titan Fitness. They're designed to handle any workout, but they'll fit in a home—you don't need commercial space to use them. Let our power racks get you to the next level of fitness. Got any questions? Contact us today to talk about the products that are just right for your home gym.