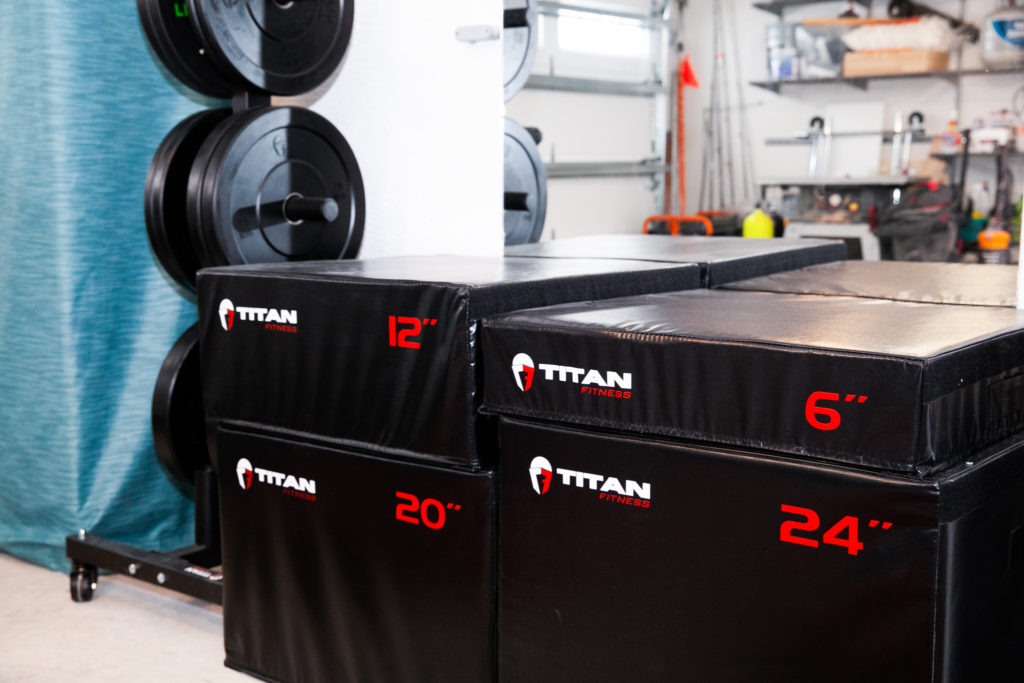 Debating what to do with that extra space in your house? Two words: home gym. Now, instead of running through extreme temperatures or making the trek to a crowded gym, you can experience the luxury of working out without leaving the comfort of your own home. Here are 5 ways to turn your extra space into the home gym of your dreams.
Invest in Workout Equipment
To get truly effective results from your home gym, you may need more than some 5-pound weights and a cheap yoga mat. Before purchasing, take a little time to research workout equipment you're interested in. Making an effort to invest in quality workout equipment from the beginning will make it a lot easier to meet your fitness goals in the future.
The best gear for your home gym will depend on what your workout goals are. However, the most versatile option is an Olympic weight set. Using free weights lets you customize exactly how much weight you work with and allows for a range of exercises. For those just starting out, you typically just need a barbell, a pair of dumbbells, a plate set that reaches around 300, and a bench. If possible, get a power rack or squat rack to assist you with performing the exercises safely.
When shopping for cardio equipment, skip flashy gear with unnecessary perks and focus on durability. Whether you're getting a rowing machine, treadmill, or bike, make sure it can stand up to hours of repetitive motion. Ideally, it should be made from metal and have easy-to-repair parts.
Think About Your Flooring
The floor in your gym has a surprisingly big influence on your overall performance. When your flooring is slippery tile or squishy shag carpet, you risk injuring yourself due to uneven footing. Doing a lot of cardio on a firm surface like concrete can also be dangerous. To choose the best flooring, you need to find something that has traction, durability, and shock absorption.
There are a few different flooring options depending on your budget and your ability to customize the room. If you rent and can't change the flooring, the best option may be a thick rubber mat. Often made up of interlocking tiles, these rubber mats protect your joints, keep you from scratching the floor, and provide an anti-slip grip. If you can install the flooring yourself, take a look into vinyl options. This material is water-resistant and very durable. Though less sturdy, a low-pile carpet is another helpful option because it doesn't scratch and isn't slippery. If possible, include cork or another padded underlayment that helps with shock absorption.
Let in Natural Light
When building your own gym at home, you have the chance to create something that is more than just a utilitarian space. A home gym that looks welcoming and relaxing is more likely to be used. One of the easiest ways to make a gym look bright and open is by simply utilizing some natural light. Before deciding on your space, find a place that has a window.
Letting natural light into your gym can do more than just give you a bit of motivation.
Exercising in natural light can help you pick up your pace during tough workouts. Sunlight also increases vitamin D absorption, which aids in muscle strength and increased performance.
Add A FewMirrors
Most gyms have floor-to-ceiling mirrors because it is one of the best tools you can have during exercising. It lets you actually check your form during exercises. This can keep you from injuring yourself, and it helps you get the most out of your workout. Mirrors allow you to check your form during exercises, keeping you from injury and helps you get the most out of your workout.
Of course, massive mirrors covering a wall would be great, but this isn't necessary.You can still get plenty of benefits from a smaller option. Consider getting a floor mirror on a stand. These mirrors can be moved easily around the room, so you can check out your form from multiple exercising spots.
Organize Your Gear
For a home gym that lasts, make sure to take care of your equipment. The best way to do that is by adding easy-to-find and use storage features to your space.
There are a variety of options for gym organization. The simplest is a standing shelf or rack to hold your weights. You may also want to consider hanging some shelves on your wall for towels, mats, gloves, and other lighter equipment. If you have enough space, consider adding a pegboard or larger cabinet to sort and store extra gear, too.
If all these tips seem overwhelming, don't worry! It's actually pretty easy to build a gym you love as long as you start slow. Pick one small section of your home gym to focus on first. By taking the time to research your options and pick the best materials, you get a gym that works best for your unique needs. When you have a luxurious home gym designed with you in mind, exercising becomes easier and more entertaining than ever.