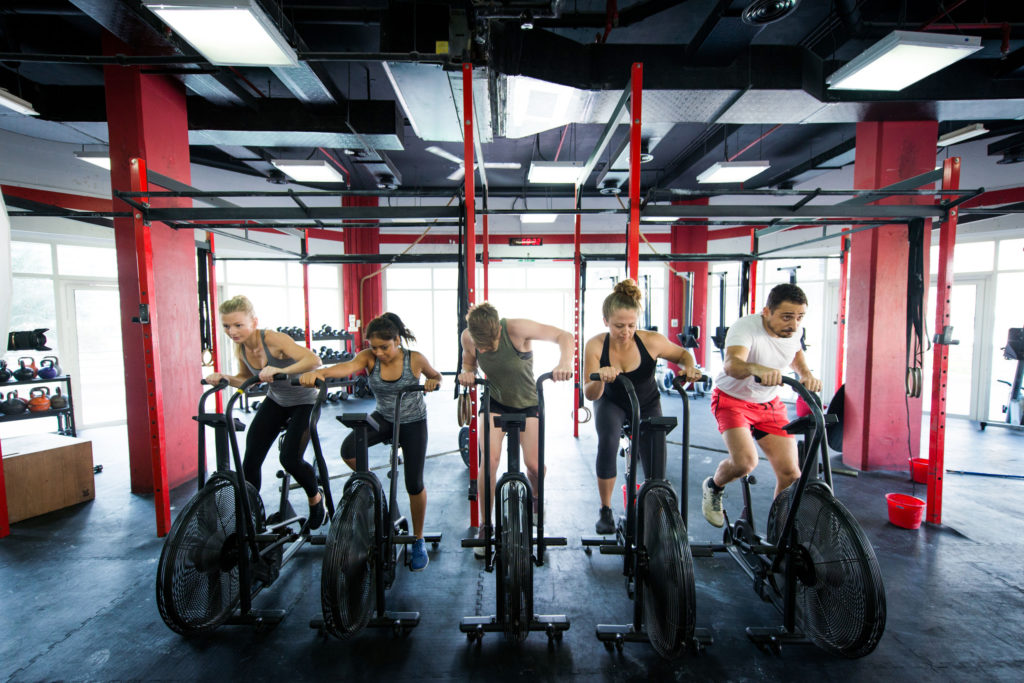 Cardio can be a great way to enhance your performance and burn a few extra calories. When it comes to cardio, you've got a few different options. Cardio machines, like a fan bike, or outside running both can benefit your body but what are the key differences between the two?
Equipment & Environmental Differences
Let's take a look at equipment & environmental differences. The obvious difference between running and using a fan bike is access to the equipment. You can either join a gym or purchase your own fan bike. Depending on the bike you pick, price can range anywhere from a few hundred to a couple thousand dollars. The Titan Fitness Fan Bike runs under $700.
Running is definitely more budget-friendly, but there's still some equipment you need to select. You'll have to find a pair of high-quality running shoes, if you want to avoid repetitive stress injuries. In addition to shoes, you may also need to consider other equipment like exercise clothing, water bottles, and fitness trackers.
When selecting equipment for your cardio, remember there is a major difference between environments. Using a fan bike is almost always done inside, which has the added perk of avoiding extreme heat, cold, and rain from ruining your workout.
Meanwhile, running has to be done outside if you want to achieve any real distance. There are some perks to exercising outside. Studies have found that time spent outdoors boosts your mood and reduces stress. Just keep in mind that you may not be able to exercise unless the weather is nice.
Difference in Impact
Another difference between the two is impact. Impact essentially refers to how much stress you put on your joints during the exercise. It's important to consider impact and how much your body can handle during cardio. Doing a high-impact activity all the time can end up increasing your risk for injuries.
Overall, a fan bike has a lower impact than running due to being seated during most of the exercise. The bike supports some of your weight, so your joints are not put under as much stress. This does not mean air bikes are entirely impact-free, but there is just a little less risk of injury when using an air bike.
The difference in impact means that a fan bike might be better for those who have bad joints. If you're older or worried about injury, a fan bike can also be safer. People who want to run outside but are worried about the impact can opt for shoes with better shock absorption along with running on softer surfaces
Cardio & Calorie Comparison
Of course, the main thing people want to know is which exercise works better. Figuring out a cardio & calorie comparison for the two can be tricky since they use different sets of muscles and different methods for calculating intensity.
There is no definitive amount for how many calories running will burn versus a fan bike. Things like your weight, the bike's resistance level, the type of ground you run on, or the speed you pedal at will all change how many calories you burn. In general, when a typical person runs or pedals at an average speed and average difficulty for the same amount of time, running will burn more calories.
Running tends to burn more calories because it uses more muscles and requires you to move your own body weight for the entire exercise. For example, the typical runner might burn around 400 calories in a half-hour run. Meanwhile, the typical 30-minute session on a fan bike would just burn around 300 calories.
When it comes to improving endurance and building muscle, things are even trickier to measure. Generally, if you were running at an average pace, you would build a bit more muscle and aerobic capacity than you would cycling.
However, your actual results may vary a little more. Some people just naturally perform more intensely with one exercise. If you hate the heat, you might find yourself working out more vigorously on a fan bike inside. If you get bored easily, you might end up running faster or longer when you have changing scenery outdoors.
Ultimately, it all just comes down to your exercise goals and your individual preferences. Both fan bikes and running can be a great tool for getting in shape.Regardless of which choice you pick, success really depends on your own motivation. The best exercise for you will always be one that you find yourself able to do on a regular basis.