If you're trying to increase strength and muscle mass in your workouts, chances are you already know about power racks — and you might even use one in your fitness regimen. While power racks are standard equipment in most gyms, you might be wondering: Can they really boost your exercise routine on a daily basis, and is it worth getting one for your home gym? This guide will explain all about power racks, including what they do, why they're beneficial, and how to choose the best power rack for your fitness needs.
What is a Power Rack?
A power rack is an all-in-one system made of four vertical posts and a minimum of two horizontal bars. This creates a frame-like "power cage" structure that can support numerous strength training routines. A power rack typically includes these features:
Pull-up bars
Band pegs
Holders for plate storage
Safety straps
J-hooks to support various exercises
Extra attachments and add-on accessories (including benches, a detachable dip bar, pulley attachments, cable crossover attachments, and various bar holder attachments)
The purpose of a power rack is to provide stable, safe support for various strength training exercises, including many that utilize free weight barbells. Due to its construction, a power rack actually facilitates many of these exercises so they can be performed to maximum effect.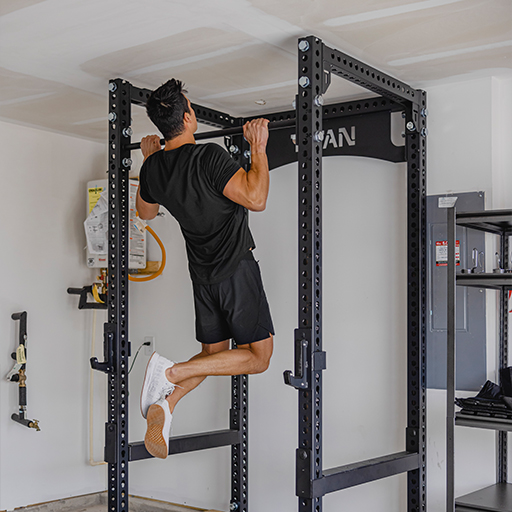 How To Use a Power Rack in Your Fitness Routine
A power rack can be likened to a playground with every conceivable piece of equipment on it, including a few things you've never heard of. This versatile, all-in-one structure is the ideal strength training machine for home gyms or garage gyms because it allows you to do many things.
You can use power racks for a wide range of exercises, including:
Barbell and dumbbell powerlifting
Squats
Chin-ups
Bench presses
Military presses
Shoulder presses
Heavy rows
Pull-ups
Deadlifts
Bicep curls
Calf raises
Lunges
Pulley system routines
Benefits of Power Racks
Are power racks beneficial to your weight training regimen? Absolutely — and here are some examples of their benefits:
Weight Lifting
A power rack is specially designed to have safety spotter arms that can be added to either the inside or outside of the rack. They can help support barbells securely in place at strategic points, so you can safely lift and replace them. This construction enables the power rack to act as a mechanical spotter for all types of barbell exercises. For example, the popular Titan Fitness X-3 Series Bolt-Down Power Rack offers both Westside hole spacing and 2-in hole spacing along the entire length of the uprights for more secure support, as well as more versatility.
Bench Presses
Power racks allow you to place the barbell right above your chest during bench presses, mitigating risks if you lose control of the weight.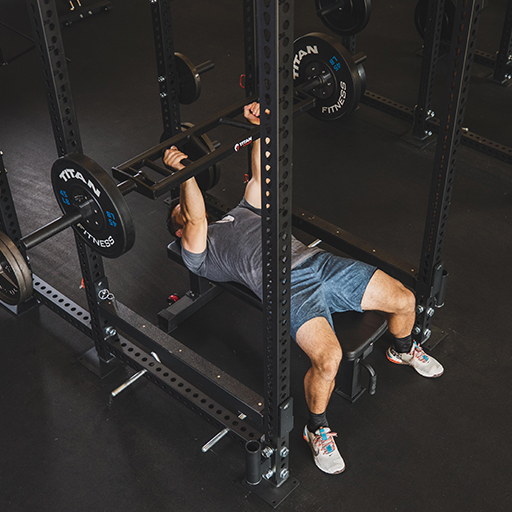 Pulley and Cable Exercises
Power racks are designed to accommodate detachable hooks, pulleys, and cables so that you can perform a wide range of muscle-strengthening exercises.
Squats
Power racks can accommodate a variety of heights for you to place your barbells on during squats, which you can adjust at a comfortable level for all types of squat routines. And speaking of squats…
Is There a Difference Between Power Racks and Squat Stands?
While the two terms can sometimes get confused for one another, power racks and squat stands are constructed differently. One main difference is that a squat stand is designed mainly for squats and bench presses. A power rack is far more versatile because its construction enables you to do a wider range of exercises and weight training routines.
Another prime difference concerns safety. With a power rack, if you have to release the barbell, you can drop it onto safety spotter arms. With a squat stand, you oftentimes have to dump the barbell onto the floor, creating a higher risk of injury. Likewise, a power rack is built to be substantially heavier and more stable than a squat stand, making it safe to accommodate heavier lifting routines. NOTE: Some Titan Fitness squat stands due offer more stable base footings that allow for safety spotter arms, however, caution should still be used.
In addition, a power rack is built to be supportive in other ways, as we'll discuss below.
Are Power Racks Safe?
A power rack can look pretty forbidding if you're new to gym equipment. To be honest, a top-notch power rack with all the bells and whistles somewhat resembles an off-limits construction site where hard hats are required. But in fact, power racks are designed to provide extra safety and ensure peace of mind during weight training.
Whether made for home gyms or commercial gym use, power racks are enhanced with numerous safety features that enable you to lift heavy weights with more confidence. If you ever have to bail on a lift, you can simply replace the weight on one of the attached safety spotter arms. This mitigates the risk of dropping the weight to the floor and potentially injuring yourself. If you're working out by yourself in your home gym, this safety feature alone is one of a power rack's prime benefits. In fact, without these essential safety features, some bench presses and lifts would be impossible to safely do by yourself without a spotter.
Toward this end, Titan Fitness power racks have heavy-duty 11-gauge and 12-gauge steel construction, so they're built to sustain heavy weights and accommodate all types of barbells, even when they're loaded with weight plates. With a high-quality, heavy-duty power rack from Titan Fitness, you can perform your weight training regimen with the assurance that your power rack has got you covered in support and safety.
Types of Power Racks
Here are some of the different types of power racks built for commercial and home gym use:
Full Power Rack
Go to any gym, and one of the first things you'll see is a full power rack. This is the classic type with four upright bars and two safety bars in a cage-like construction. Full power racks can also be upgraded with a wide range of add-on attachments and accessories. The prime advantage of a full power rack is its versatility because it enables you to do a full roster of weight training exercises.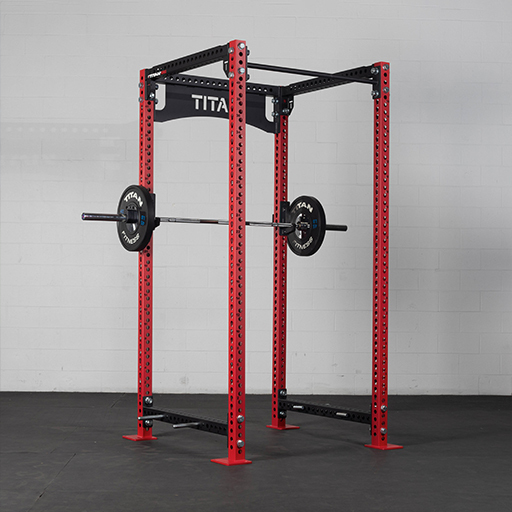 Half Rack
A half rack is basically a smaller version of a full power rack. While it doesn't have the same versatility, it can be a good option for a home gym with limited floor space. Also, it's a good choice if working out in a full power rack makes you feel too closed-in while you're lifting weights.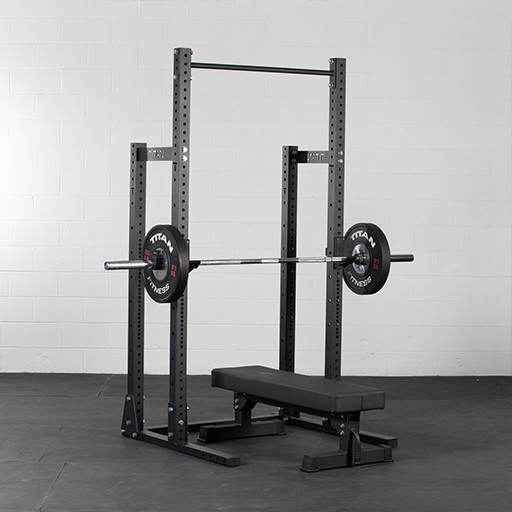 Squat Stand
A squat stand is an open version of a power rack. It looks somewhat similar to a high jump bar because it only has two vertical posts on each side (fitted with rails to hold the barbell), with one horizontal bar in between. However, a squat stand can't really be considered a power rack because it lacks the same level of safety and support features as a power rack. Plus, it's essentially designed only for squats and bench presses.
There are also different variations on these basic types, including tall squat stands, short squat stands, and independent squat stands.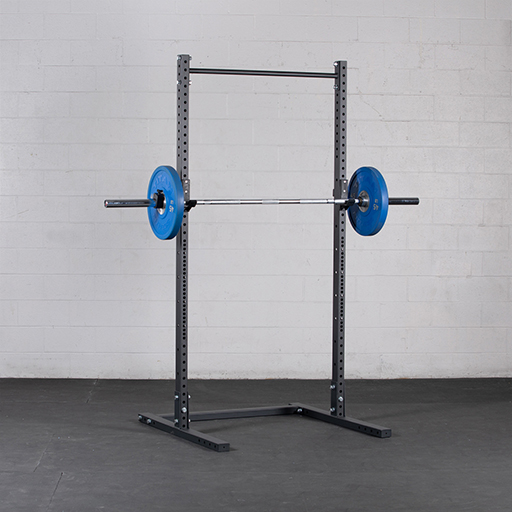 How to Choose the Right Power Rack?
If you're ready to add some serious weight training equipment to your home gym, buying a power rack is a great way to start. However, power racks can differ significantly in weight capacity and construction. Also, some power racks may offer a wider variety of extra features and accessories to optimize your weight training exercises. Here's what to look for:
Weight Capacity
Power racks typically have a weight capacity of 500 pounds to 1,200 pounds, with average home models ranging around 800 pounds, depending on the model. Essentially, the larger the weight capacity, the more expensive the power rack. However, Titan Fitness power racks are all built tough, including their more-affordable models, with heavy 11-gauge and 12-gauge steel forged and designed to withstand heavy weight capacities. That's why Titan Fitness power racks have quickly become a favorite brand for home gyms across the country.
Whether you're performing heavy lifts or doing standard weight-strengthening routines, you'll need a power rack with endurance and durability. Before you buy, it's important to talk to a fitness expert so you can choose a model that has the safest weight capacity for your strength training needs.
Size and Dimensions
Full power racks can vary significantly in size and length. For example, Titan Fitness offers a series of power racks, including the T-3 Series Folding Power Rack, in both short (82") and tall ((91") models that are specially designed to fit a variety of home gyms. When choosing a power rack, consider factors such as overall size, length, and ceiling clearance before you buy.
Safety Features
A quality power rack will have a number of safety features, including J-hooks, safety bars, pin and pipe safeties, and safety catches or straps (pictured below). These features, designed to hold barbells more securely, are standard for any power rack. You'll also want to look for thick gauge construction, strong weld joins, and a heavy base that anchors firmly and securely to the floor.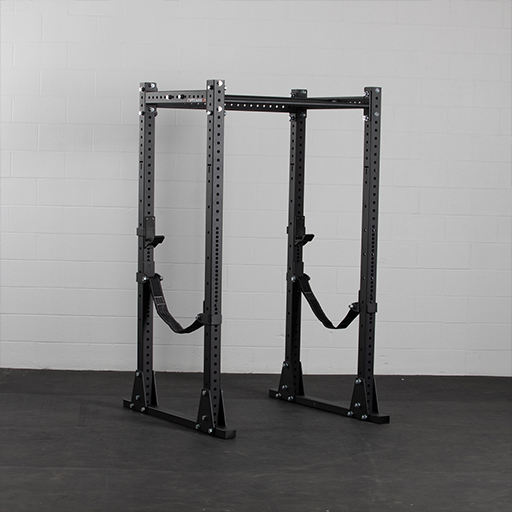 Attachments and Accessories
Typically, you have to purchase additional power rack attachments and accessories separately. These add-ons may include a bench (for bench presses), rack extensions, pulley attachments, and dip bar attachments.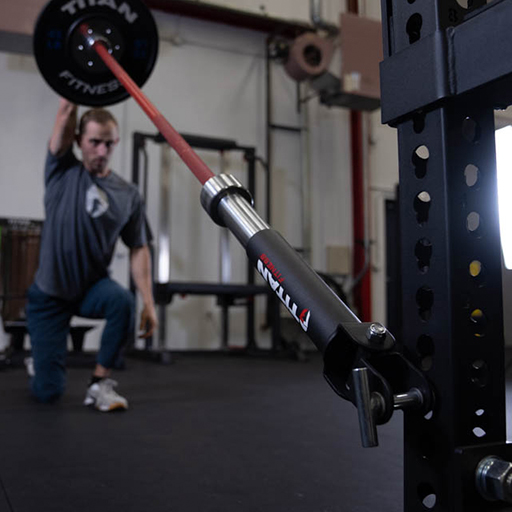 Cost and Warranties
Thanks to Titan Fitness, you can own a top-quality power rack for less than $375. That's because Titan is committed to providing premium-quality equipment without the premium price tags. Toward that end, Titan Fitness keeps its costs down and its pricing affordable, even on its most professional equipment models. In addition, Titan Fitness power racks come with a convenient one-year warranty, so you can buy with extra confidence.
Are Power Racks Worth It?
Should you buy a power rack for your home gym? Only you can answer this question because it depends on your type of exercise regimen, your training goals, and how much you focus on weight and strength training. If you're trying to increase strength and muscle mass, then you might want to consider adding a power rack to your home gym equipment arsenal, especially if you enjoy classic strength training and bodybuilding routines such as bench presses, squats, and deadlifts.
If you're ready to enjoy the convenience of your own power rack at home, be sure to visit Titan Fitness, where you'll find a wide range of power racks and home gym equipment to suit your fitness routine, as well as your budget.